From the Projects page, you can create a new Project to bring your RFP requirements into the Platform.
Permissions Required: Project, Level 2 (Creator) permissions or higher are required to create a new Project.
To create a new Project:
Click Projects in the top navigation bar
Click New Project




Select your Project type. If your RFP contains multiple choice questions, choose a Compliance Project. If not, choose a Standard Project
Enter your Project Details, including the Project Name, the Client Name, an optional description, a Project Owner, and a Due Date


Tip: Be sure to make your Project name specific. It's common to work on multiple Projects for the same client.

Enter your Additional Project Options. If available, upload a Source Document (for example, the original RFP you received from your client). You'll be able to upload additional reference documents inside your Project
If you're creating a Compliance Project, this is where you can add all of the multiple choice options you'll need in your Project
Click Create
Read more about Project types: What is a Project?
Can I Customize My Compliance Project's Answer Options?
Yes! Compliance Answer Options are set within each Project, allowing you to customize the multiple choice options available based on a specific Project's needs.
By default, Loopio's Project Compliance Answer Options are Yes, No, and N/A.
You can add or remove Compliance Options to suit that Project's requirements. This can be done during Project creation, or within a Project by clicking on the gear icon then selecting "Edit Compliance Options".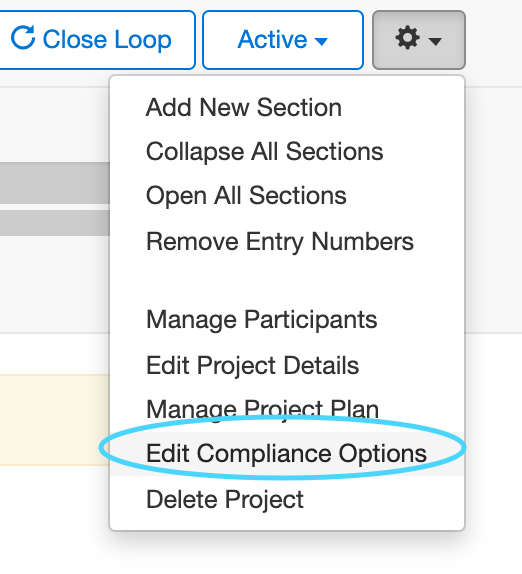 Compliance Options can be removed by clicking the X to the right of the Option. Compliance Options can be added by entering the option of your choice in the text box, then clicking the green +. 
Note: Compliance Answers have a maximum length of 45 characters.

Editing the Library Mapping field for your Compliance Options will determine how your Projects' Compliance Answers are mapped back to your Library.
When a Compliance Project is exported as an Excel document, your multiple choice answers and text-based comments will export in separate columns.
Read more: How Do Compliance Answers Map From Library to Projects?
Can I Switch a Project's Type?
Yes. If you accidentally created a Standard-type Project and want to switch to a Compliance-type Project (or vice versa) you can switch between different Project types.
To switch your Project type:
Click the gear icon located on the top right corner of your Project
Click "Edit Project Details"

Click the drop-down box beside Type to update your Project type


The page will refresh and you will now be able to add Compliance Answers to your Project Entry