When adding an Attachment to any Library Entry, you can choose from Attachments stored in your Attachment Library.
Subscription Required: Attachment Library is available on Professional subscription or higher.
Permissions Required: Library, Level 2 (Read & Write) permissions or higher are required to add Attachments.

To add an Attachment from your Attachment Library:
1. Access the Edit view by clicking the blue pencil icon on your Library Entry

2. Click the green plus button on the Attachments bar
3. Click on Add from Attachment Library

4. Find the Attachment you want to use. You can Search Attachments by the file name and filter by File Type
5. Click Select beside the Attachment you want to use, then click Add
Note: Only one Attachment can be selected at a time.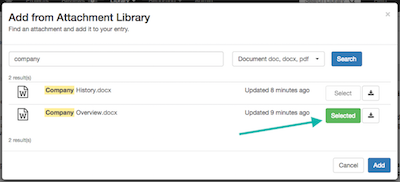 6. The attachment will be shown under the Attachments bar