You can see which Library Entries your attachments are used in from the Attachment Library.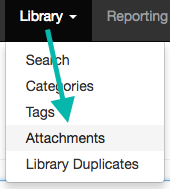 Subscription Required: The Attachment Library isn't available on all subscription plans. Contact Support to learn more: Send an email to Support
Permissions Required: General Administration, Level 2 (Full Access) permissions are required to access the Attachment Library.
To see which Library Entries an Attachment is used in:
Search for your Attachment by the file name and/or filter by File Type
Click on the number of Library Entries listed beside your Attachment
The Library Entries will be listed in the resulting popup window. Click the icon to open the Library Entry