Yes! Loopio's Integration for Slack keeps your Project Participants informed of their Assignments, helping your team stay organized and deliver Projects on time.
In this article:
What Notifications Are Sent From the Integration for Slack?
There are two types of Notifications that are sent through the Integration for Slack: instant Project Notifications and a Daily Digest.
Both Project Notifications and the Daily Digest will appear in Slack as direct messages from the Loopio App:

Tip: Project Notifications can be configured. See "Changing the Notifications Sent Through the Integration for Slack" below.
Which Project Notifications Are Sent Instantly?
In the Project Workspace, a direct message is instantaneously sent to Users, via the Loopio app in Slack, when:
They are assigned a Project Entry
A Team they belong to is assigned a Project Entry
A Project Entry Review is ready to complete for the User
A Project Entry Review is ready to complete for a Team they belong to
They are @ mentioned in a comment
A comment is left on an Entry they are assigned to
A Project Entry they are assigned to is nudged
A Project-wide nudge is initiated from the Project Dashboard
Note: You will not receive a Slack notification for any actions you have assigned to yourself.
What Is Included in the Slack Daily Digest?
A Daily Digest is sent out at approximately 9:00 AM local time (as set in each User's Slack timezone). This includes a summary of Overdue Assignments, Assignments Due in 3 Days or Sooner, and All Other Assignments.
This summary includes:
Project Entry assignments
Project Entry Reviews that are ready to complete
Library Reviews assigned to them
Assignments for Teams that have not been claimed, or have been claimed by a different User, are not shown in the Daily Digest.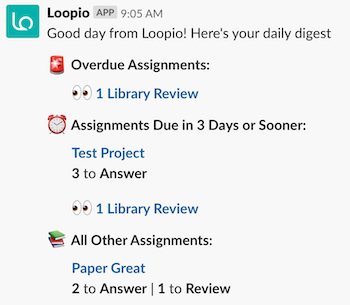 Changing the Notifications Sent Through the Integration for Slack
Project Notifications sent through Slack can be configured in two ways:
Specific notifications can be turned on or off for all Loopio Users, through the Admin tab
Users who are members of more than one connected Slack Workspace can configure their preferred workspace in their Account Details page
Enabling and Disabling Specific Slack Notifications for all Users
Permissions Required: General Administration, Level 1 (Manager) permissions are required to configure Slack Notifications in the Admin tab.
Click Admin in your top navigation bar
Click Notifications
Check off any Slack Notifications you would like your Users to receive


Tip: This change will apply for all Users. Email Notifications cannot be edited.

Click Save

Selecting a Preferred Slack Workspace for Project Notifications
Note: This option is only available if your Loopio account is connected to multiple Slack workspaces.
Click your name in the top right corner of Loopio

If you are a member of multiple connected Slack workspaces, you will see a Preferred Slack Workspace dropdown menu

Select your preferred workspace in the list - this is the workspace where you will receive Project notifications
Click Update
To learn how to set up the Integration for Slack, read more: Setting up the Integration for Slack
Read on to learn more about searching the Library using the Integration for Slack: Searching the Library from Slack