Tags are great when searching for content in your Loopio Library. Tags can be used as both a filter or a keyword when searching the Library for specific content, ensuring that you are able to find accurate results, fast.
How Do I Add Tags To My Entries?
The general way to add tags to your entries would be to edit the entry and scroll down to the bottom of that edit page where you can select, or search Tags from a list.

You can add tags to an entry by directly editing it in the Library while working on entries from Reviews from Projects, Library Review Cycles, and bulk importing via the Loopio Excel Template.
Searching Tags As A Filter
You will find the Tags search filter on the left sidebar with the other search filters. Rather than selecting from a list, Tags have their own dedicated search bar, helping to make searches more flexible and accurate. Enter your Tags here to browse your Library for any content that currently contains the specified Tags.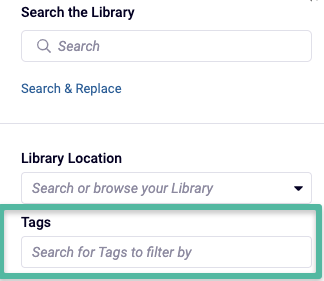 Note: By default, Tags use "AND logic". This means if you filter with multiple Tags, your search will return only Entries that have been tagged with All the selected Tags. More Tags will narrow down your search!
This default behavior can be adjusted to consider Any matching Tags or None (exclude matching Tags) using the Match dropdown: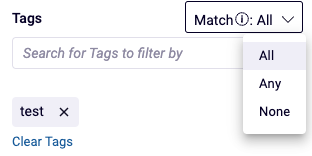 Making use of Tags allows you to narrow in on Entries that can be used for specific geographic areas, use cases, areas of your product, or anything else that doesn't neatly fit into a Stack or Category without affecting the relevancy of your results.
Searching Tags As A Keyword
Tags can also be matched on Keywords that are included from on what you've typed out in the search bar when searching the Library. This can be adjusted by toggling on/off Tags under the Search Within filter setting.