Return highly targeted search results using Loopio's Library search options.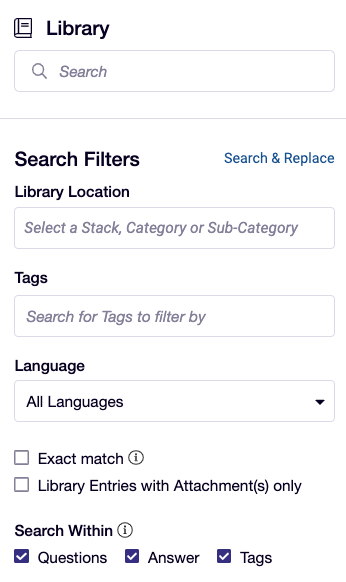 How Can I Search Through Multiple Categories?
Search through multiple areas of your Library at the same time using the Library Location filter:
Click into the Library Location field

Select your desired Stack, Category, and Sub-Category



Subscription Required: Stacks aren't available on all subscription plans. Contact Support to learn more: Send an email to Support

Click Select to automatically filter your search results
Repeat steps 1-3 to add up to 10 different location filters to your search
Using Search Operators
Search operators can be added to your search queries to further narrow your results.
For example, searching for overview OR summary will return all results that contain either "overview" or "summary," whereas searching overview AND summary will only return results that contain both keywords: "overview" as well as "summary":
To include search operators in your Library search:
Click into the Library's top search field

Enter your search terms, separated by the desired search operators (AND, OR, or NOT). Loopio will automatically run your search as you enter text

Narrowing Search Results by Other Criteria
In addition to the above search filters, Loopio Library search allows you to narrow your search results by the following criteria:
Tags: Narrow your results for content that contains any, all, or none of your specified Tags

To learn more about narrowing your Library search results based on tags, read on: How Do I Filter The Library By My Tags?
Language: Narrow your results to Entries categorized by a specific language


Subscription Required: Multi-Language Library isn't available on all subscription plans. Contact Support to learn more: Send an email to Support

Exact Match: Narrow your results to Entries that contain all of your search terms in the exact order they are typed
Library Entries with attachments only: Narrow your results to only Entries containing attachments
Search Within: Specify which Library Entry fields you want your search to run against