When working on Projects, you may want to find out where exactly did some answers come from? Loopio Projects provide three options for answering Project Entries:
Magic: Magic searches your Library for matches to any Project Entries that have not yet been answered. When Magic finds a strong match between a Question in the Project to an Entry in the Library, the Project Answers will automatically be populated with the highest match strength
Library Search: Search through your Loopio Library to find a related Entry. By default, Search Library will use the Project Entry's question to search your Library across the Question, Answer, and Tag fields of Library Entries
Search Past Projects: You can search through previously completed Projects for similar answers while working in your currently active Project.
Manual answer creation: Manually entering the Answer text
Where Did The Answers Come From?
On the Entries in the Project, it will indicate the source used to answer the Entry, and also where the answer came from. While scrolling through your Project Workspace, you will notice to the right of the Entry an Icon if answered by:
Magic:

Library Search:
Search Past Projects:

If you hover over these icons, they will indicate where the answer came from and how was it answered as well if you're not sure what the icons mean.
This image shows an Entry that was answered by Magic, where the answer came from and a URL that will take you directly to the answer location in your Library.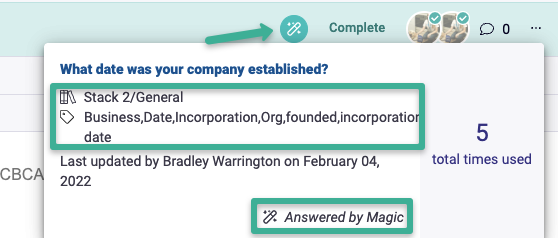 Note: For manually answered Entries, you will not see an icon indicating source of the answer since the answer did not come from your Library, or was pulled from Magic.