Yes! Loopio's Microsoft Teams Integration keeps your Project Participants informed of their Assignments, helping your team stay organized and deliver Projects on time.
What Notifications are Sent Using the MS Teams Integration?
Existing Loopio notifications will be surfaced in MS Teams through the chatbot to help team members keep on top of action items within Loopio. Users will be able to receive the following types of notifications:
Assigned Project Entries
Project Entry Reviews
Project Nudges
Project Entry Comments & Mentions
Project Notifications will appear in MS Teams as direct messages from the Loopio App: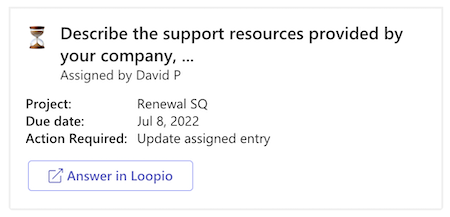 Which Project Notifications Are Sent Instantly?
From the Project Workspace, a direct message is instantaneously sent to users via the Loopio app in MS Teams, when:
They are assigned a Project Entry
A Team they belong to is assigned a Project Entry
A Project Entry Review assigned to them is ready to complete
A Project Entry Review assigned to a Team they belong to is ready to complete
They are @ mentioned in a comment
A comment is left on an Entry they are assigned to
A Project Entry they are assigned to is nudged
Note: You will not receive a notification for any actions you have assigned to yourself
Read on to learn more about searching the Library using the Microsoft Teams Integration: Searching the Library from MS Teams