In This Article:
There are four different ways to answer Questions in a Project.
1. Automate your Answers with Magic
What is Magic?
Magic is Loopio's automation tool to automatically populate Questions in your Project by finding the best, matching content from your Library.
Magic searches your Library for matches to any Project Entries that currently do not have an Answer. When Magic finds a match, the Project Entries will be automatically populated with the best response.
Loopio encourages you to review your answers after they have been populated by Magic. If no changes to the answer text are required, click Mark as Complete to confirm that the Project Entry has been reviewed and requires no further action.
Permissions Required: The permissions required to run Magic are:
• Loopio-wide Project, Level 1 (Participant) permissions or higher, and
• Ability to edit one or more Project Entries that are eligible for Magic. Assignees may run Magic on Entries assigned to them, while Project Admins can run Magic on all unanswered Entries, and
• Loopio-wide Library, Level 1 (Read Only) access to at least one Stack. Results will only be returned from the Library Locations the User running Magic has permission to access
Note: Magic will only run on unanswered Project Entries. Magic is intended as a first pass at answering your Questions, before you have begun answering them using the other options below. Find out more: Magic best practices
To Run Magic For Your Entire Project
Click Run Magic from the Project Actions menu


(Optional) Restrict your search to content in a specific Stack, Category, or Subcategory
Click on See More Options to toggle Under Review Library Entries, search across various Library Entry fields, and adjust the Match Strength required to pull an Answer into your Project



Tip: To include your Library Entry Compliance Answers in Entries without a Compliance Set, select "Compliance answers included in the answer text" in the Magic Advanced Options. The Compliance Answer and text Answer will both appear in the Answer field for Project Entries completed using Magic.

Click Run Magic
To Run Magic For a Specific Section:
Click Run Magic to the right of the Section name

Can I Clear the Results Magic Brought In?
Yes - Magic results can be cleared individually, or in bulk.
To clear Answers brought in by Magic for an individual Project Entry, hover over the Magic icon on the Project Entry's header and click the "X" that appears:

To clear Magic results for your entire Project, click the Project Actions menu at the top of the Project Workspace and select "Clear Magic":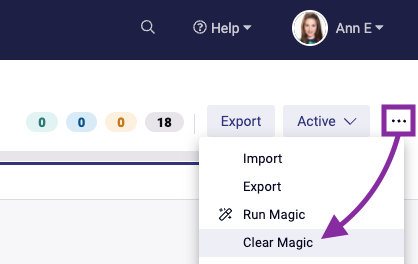 Working with Compliance Answers in Magic
Before running Magic, ensure the relevant Project Compliance Sets are mapped to the Library so that you can automatically fill in dropdown answers in the Project Entry.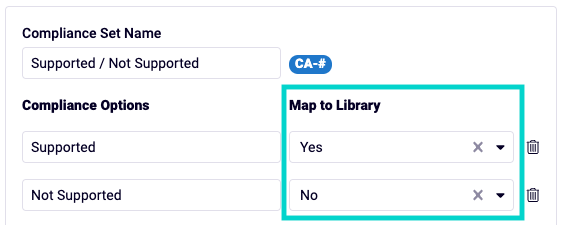 If a Compliance Answer Set in the Project is not currently mapped to the Library, Project Entry's Compliance Answers will not be filled in by Magic.
Read on:
2. Search the Library for an Answer
You can search your Library from directly within a Project Entry to quickly leverage your existing content for the most relevant response to a Question. A book icon will appear in the top right corner of any Project Entries that are populated with Libary Search.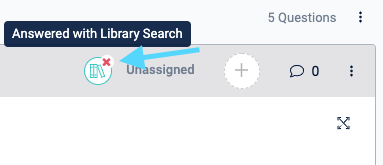 Permissions Required: Library, Level 1 (Read Only) permissions or higher are required to search the Library from within a Project.
From a Project Entry:
Click the

Search the Library

button on the Project Entry to search your Library



By default, the Library is searched for the Project Entry's question. The search terms can be adjusted as needed



Subscription Required: Multi-Language Library isn't available on all subscription plans. Contact Support to learn more: Send an email to Support

Click Use Answer to select the appropriate Answer
If Answer text already exists in the Project Entry, replace the current answer in your Entry by clicking "Replace Answer". To add the search result below the existing answer, click "Append Answer".
Can I Clear a Response Brought in Through Search?
Search results can be cleared in two ways:
Hover over the Search icon on the Project Entry and click the "X" that appears

Delete all text from the Answer field and click the Save button to save
3. Answer Questions Manually
To answer Questions manually, click anywhere within the Project Entry Answer field and type your Answer text.
If you are working on a Project Entry and are not ready to submit it for review, click the Save button to save your Answer in progress.

4. Assign Questions to Other Users
Permissions Required: Loopio-wide Project, Level 3 (Full Access) or higher, or Project-specific "Project Admin" permissions are required to to assign Questions.
To assign a question to another User, click the Unassigned link on the Project Entry.

For more information on assigning Entries to Users in bulk, read more: Can I Assign Entries by Section and Subsection?
Restoring a Project Entry to its Previous Version
To restore a Project Entry to a previous version:
Click the

Focus Mode icon


Click the history (clock) icon to display the history of the Entry


Click on the Project Entry History version you would like to restore, and c

onfirm that this is the version of the Entry you want to restore

Tip: When viewing a Project Entry History version:

View Snapshot: displays the selected version of the Answer

View Change: compares the selected version of the Answer to one version prior, highlighting any differences between the versions


Compare with Latest: compares the selected version of the Answer to the most recent version of the Answer that is saved in the Project, highlighting any differences between the versions


Click

Restore this Version