In This Article:
Your Loopio Library is a living database of company information, consisting of Library Entries in question-answer pairs. Your Library can be used to answer questions in your Projects, and can be used as an internal knowledge base for your company.
To help keep your content organized and easy to find, you can structure your Library using Categories, Subcategories, and Tags. Stacks allow for a higher level of categorization than Categories, and allow you to structure access to individual Stacks by defining which Users have access to that Stack.
Subscription Required: Stacks aren't available on all subscription plans. Contact Support to learn more: Send an email to Support
What is a Library Entry?
A Library Entry consists of data in a question-answer pair that is stored within the structure of your Library.

Alternate Questions help to reduce duplicate content in your Library by allowing you to add variations of how a question might be asked to the Library Entry.
Read more: Alternate Questions
To keep your content searchable, decide which Category and Subcategory it should live in. You can add Tags to a Library Entry to increase its searchability.
You can view a Library Entry's History to see an audit trail of changes made, including the User who affected those changes.
The Freshness Score of your Library Entry shows you the number of times an Entry has been used, as well as when it was last reviewed. This gives you a high-level idea of how up-to-date your Library Entry is - the higher the score, the fresher the Entry.
How Do I Get Content Into My Library?
You can create your Library by feeding completed Entries in from your Projects using Reviews from Projects, by bulk importing content using our Word/Excel Library Import templates, our Seismic integration, or by manually creating individual Library Entries.

Tip: Because there are multiple ways to approach populating your Library, you can tailor this process to fit your organization's needs. Get in touch with your Customer Success Manager to discuss the best option for you.
Read more: Building your Loopio Library
Read more: Reviews from Projects
How Do I Organize My Library Entries?
An organized Library makes answering Projects or searching for knowledge faster, as you can narrow your search to the relevant Category or Tag to reduce the number of results returned.
Creating Categories and Sub-Categories
Permissions Required:
Library, Level 3 (Full Access) permissions required to create Library Categories and Sub-Categories
General Administration, Level 1 (Manager) permissions required to create Stacks
Library, Level 2 (Read & Write) permissions or higher required to update Library Entries
Create Categories and Sub-Categories to group related Library Entries together to ensure you're getting the best content possible when you're searching through your Library. If you have Stacks, you have an additional higher level of categorization that allows you to define which Users can access your content.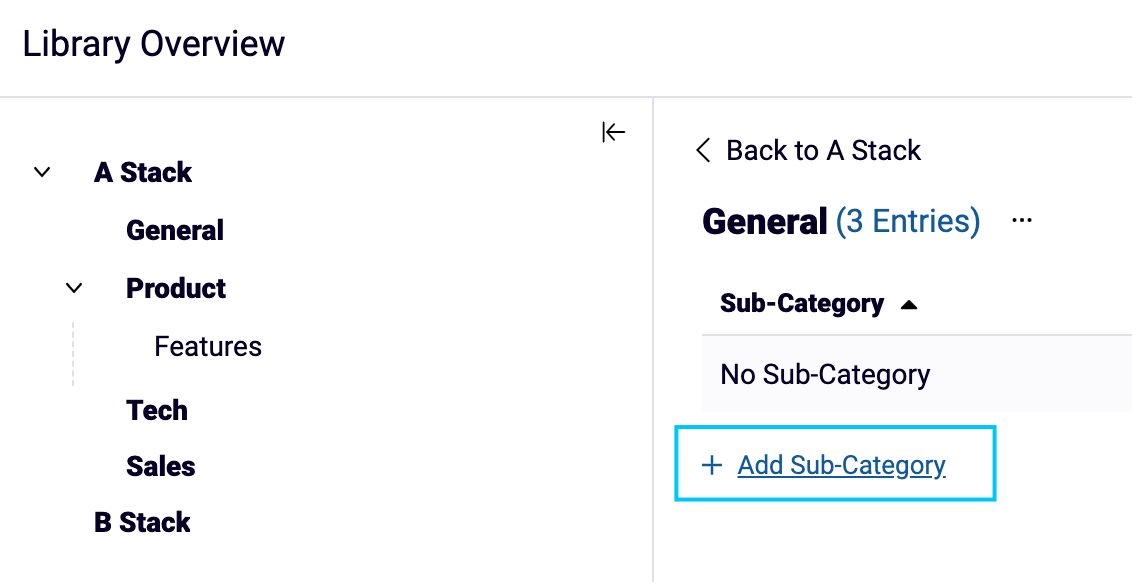 Think of your Stacks as individual Libraries with keys required for access. Categories are the file cabinets within your Library, and Sub-Categories are the files contained within those cabinets. You can use Tags to add an additional level of searchability to your Entries.
Note: Stacks are added from the Admin > Stacks page, and require General Administration, Level 1 (Manager) permissions to create.
Bulk Updating Library Entries
If you use Loopio's Library Import Excel template to populate your Library, you have the ability to categorize your Library Entries in bulk during the Import process. You can also bulk-add Tags to your Library Entries in the Import template.
You can bulk update the categorization and tags of your Library Entries from the Library page by clicking the checkbox next to the Entries you'd like to organize, then clicking Update: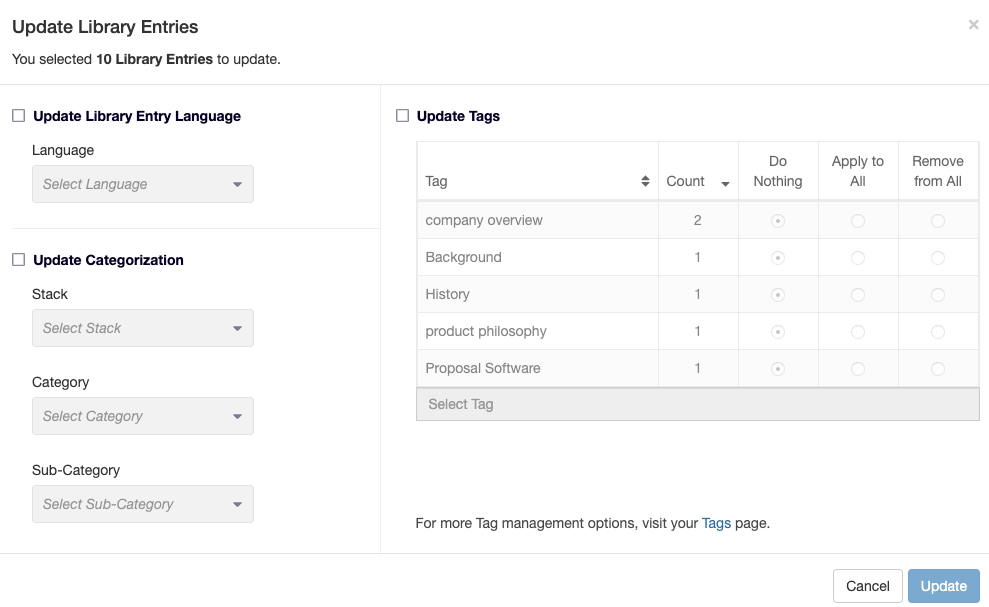 Organizing an Individual Library Entry
During the creation of an individual Library Entry, you are asked to specify the Category, Sub-Category, and (if available) Stack for categorization. You also have the ability to add any Tags that are relevant.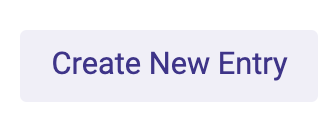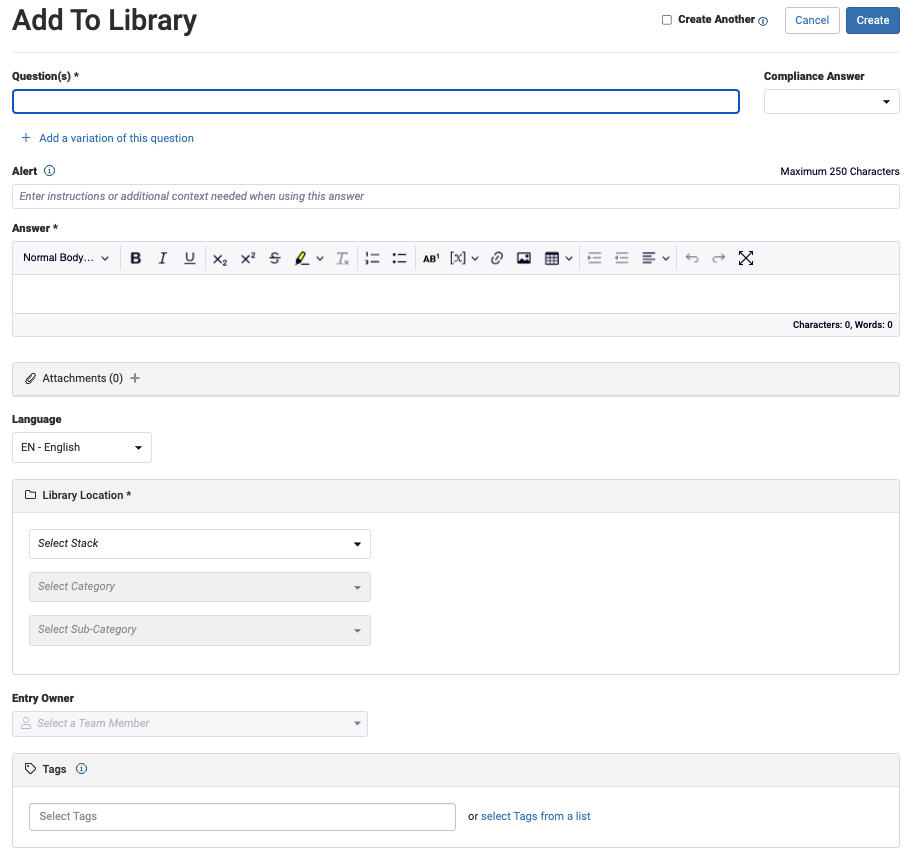 How Do I Look at Content in my Library?
There are a few ways to browse content in your Library: Search, browse by Category, and browse by Tags.
Searching my Library
Your Library search page is accessed from the Library menu.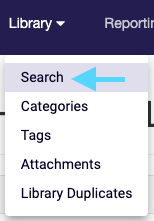 You can narrow the scope of your search by applying filters for Stack, Category, Subcategory, and tags.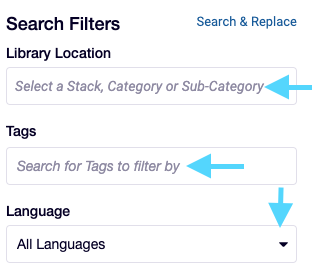 Focus your search by allowing you to specify which fields you want searched, as well as whether you are looking for an exact match or want to search through Entries with Attachments only.

Make use of search operators such as AND, OR, and NOT to further limit your results.

Browsing the Library by Category
Take a look at your Library's Category page to browse your Library Categories and see how many Library Entries are contained within each.

Browsing the Library by Tags
Tags can be used as both a filter or a keyword when searching the Library for specific content, ensuring that you are able to find accurate results, fast.
To filter your Library results to Entries containing a specific tag, make use of the tag filter: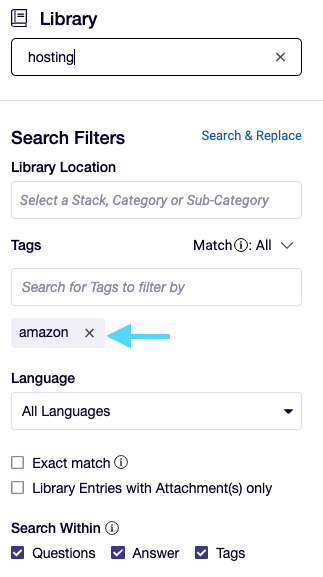 To narrow your Library results to Entries with tags containing a certain keyword, combine the Library Advanced Search "Tags" option with a keyword in the Search bar: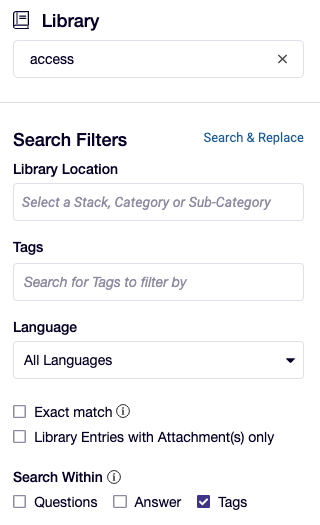 Want to learn more? Read on: Library Best Practices