In This Article:
The Admin page is the central hub for managing User-specific and Loopio-wide settings. This is where you create and adjust User profiles, define Role permissions, configure Content Styles, and more.
Permissions Required: General Administration, Level 1 (Manager) or higher required to see & access the Admin page.
Below, we'll review the Admin page one tab at a time.

Users
The Users page is where you manage who has access to your Loopio account. Here, you can Bulk Import lists of Users, add Users, and filter views of your list of Users.
Adding Users
To add an individual User, click Add User.

You'll be asked to enter your User's name and email address, as well as assign their Role and any Team they may be part of. Once you have created a User, they will receive an email letting them know they've been added to your Loopio account, so you also have the option to add a welcome message for your User on this page.
Tip: By default, the Administrator Role will be selected for every new User you create. Double-check the Role field before you press Create, to ensure your User is given the correct Role for the permissions you want them to have.
Disabling Users
Loopio allows you to disable individual Users when they no longer require access to the platform.
To disable a User, click on their name and select Disable User: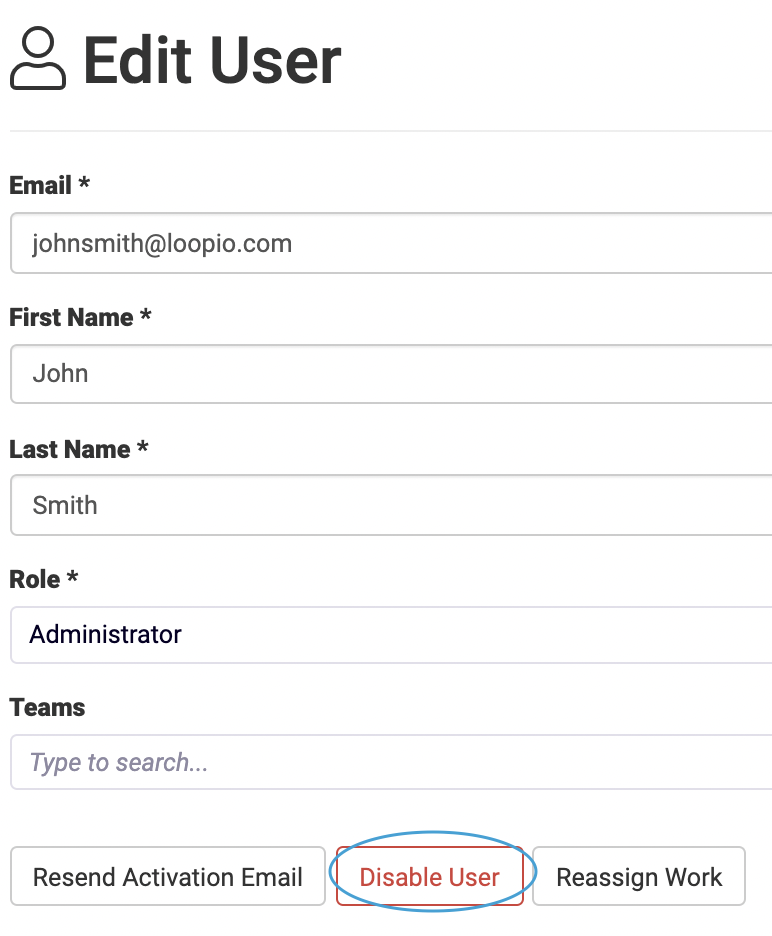 Reassigning a User's Work
Permissions Required: General Administration, Level 2 (Full Access) required to reassign a User's work.
Users with the Loopio default Administrator Role have the ability to reassign a User's work, including Projects, Reviews, and Review Cycles.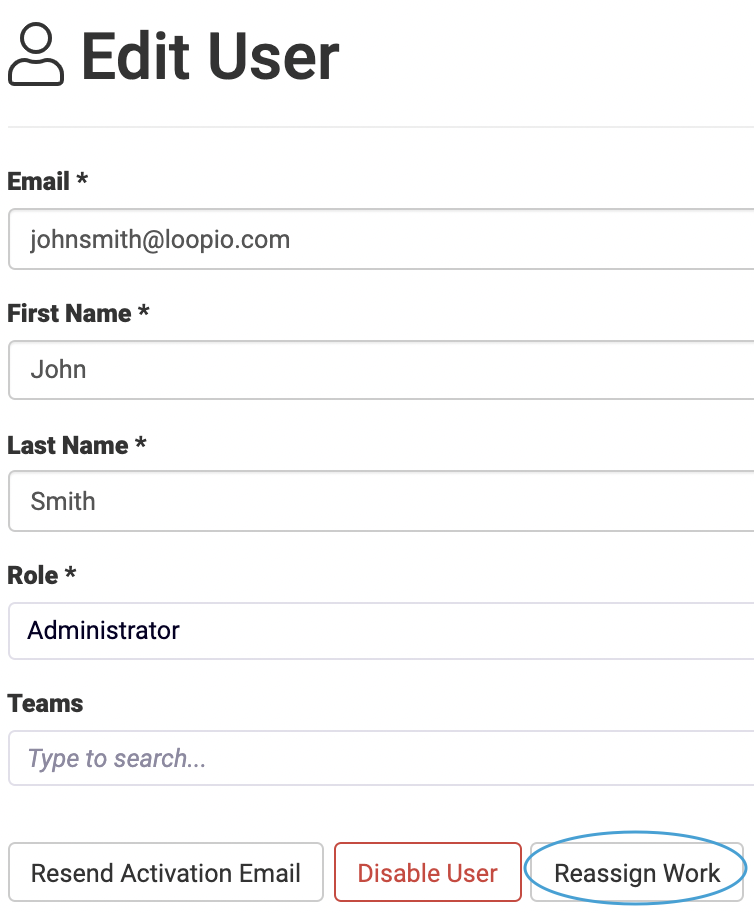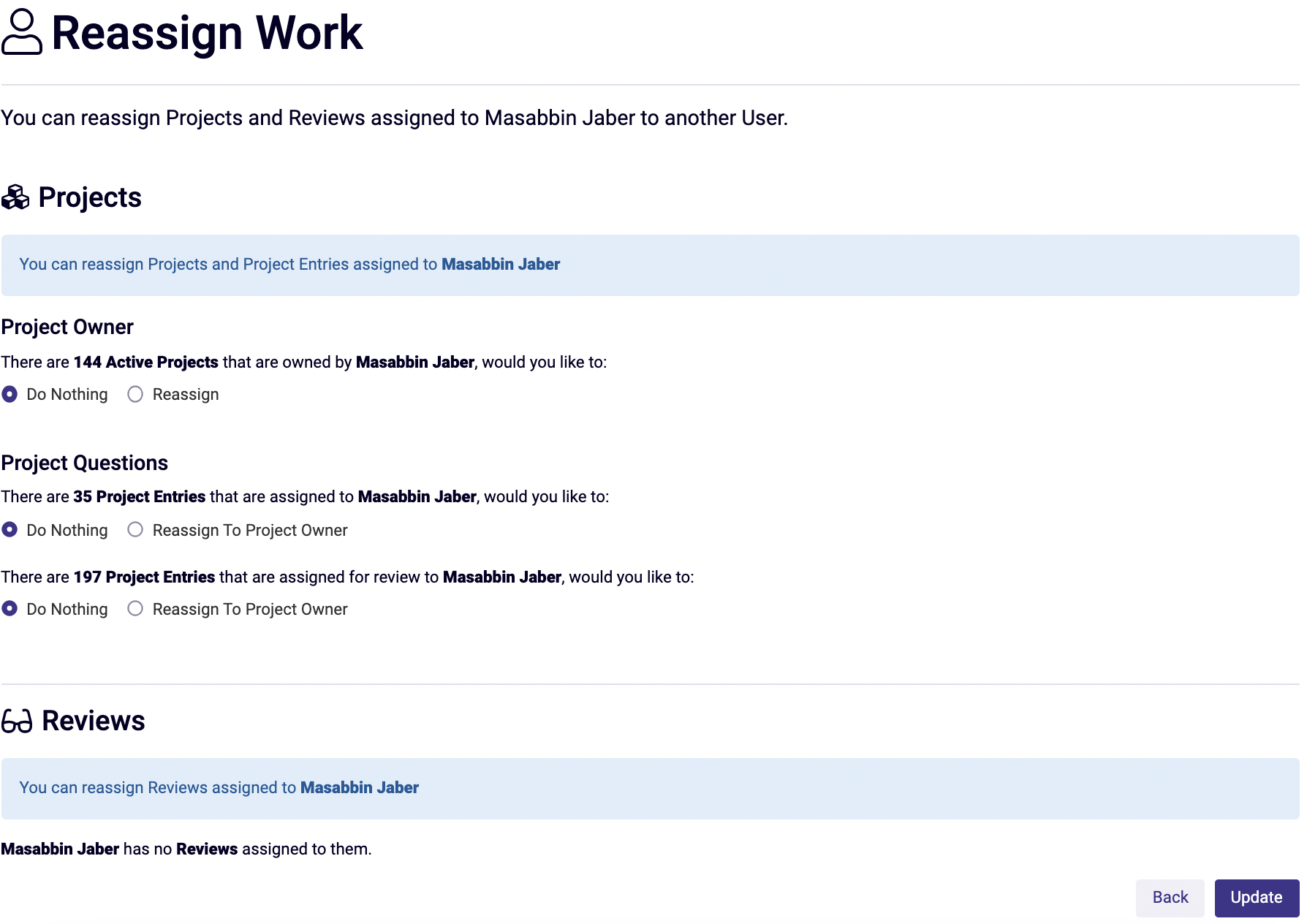 Note: Only the default Administrator role has the ability to reassign work. Users in any other Role will not see the "Reassign Work" button.

Read more: User Permissions
Roles & Permissions
Roles are used to organize your Users and define what they can do within Loopio for each aspect of the platform: Projects, Library, Reviews, General Administration, and (depending on your account type) Stacks and Reporting.
Subscription Required: Reporting and Stacks aren't available on all subscription plans. Contact Support to learn more: Send an email to Support
This page is where you can create new Roles and manage the permissions for existing Roles.


Note: General Administration, Level 2 (Full Access) permissions are only available in the default Administrator Role provided by Loopio and cannot be added to any other Role. While the name of this Role can be changed, its permissions are locked for editing. The Administrator Role is identifiable by the lock icon shown to the left of its name.

Read more: Loopio-wide permissions
Teams
Teams are groups of Users who share similar knowledge, enabling you to assign Project work to a Team rather than a specific User. The Teams page allows you to create and manage Teams.

Subscription Required: Teams aren't available on all subscription plans. Contact Support to learn more: Send an email to Support
By clicking on the name of a Team, you can edit its name and description, as well as add Users to the Team.

Read more: Teams
Content Style
Content Style allows you to configure the look and feel of content in your Library, Projects, and exported Word documents. This affects the way content looks within Loopio, as well as how it looks after it has been exported from the platform.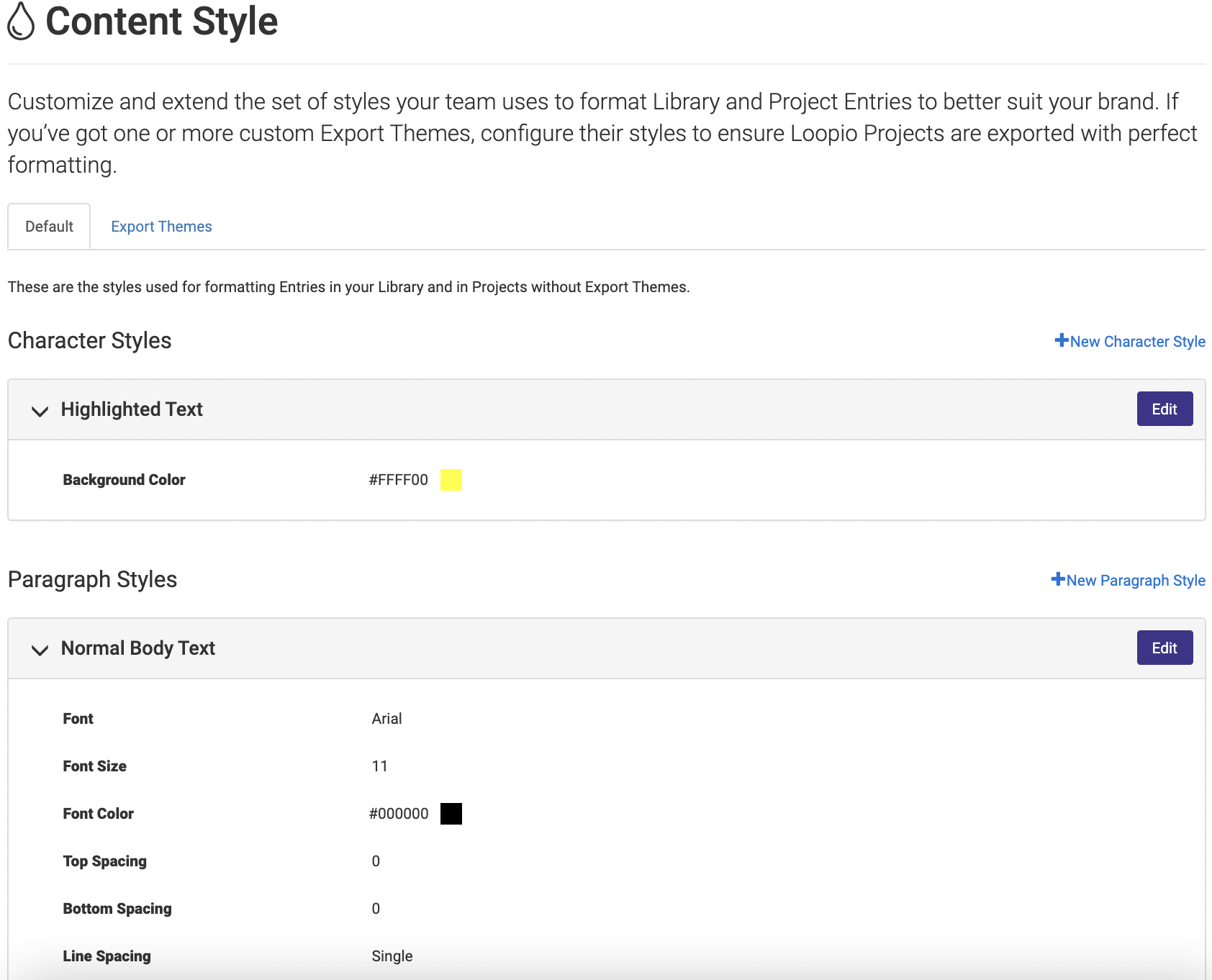 Tip: Want to install special fonts? Reach out to Loopio Support with the font name and we'll upload it for you! Fonts will only be displayed correctly when they are installed on your computer.
Read more: Content Style
Site Settings
Site Settings is where you define settings related to your Library Freshness and Compliance Answers.
Setting the value for your Overall Library Cycle will determine how quickly the Freshness Score of your Library Entries decays. We recommend you review your content at least once a Library Cycle, so keep this in mind when you set your Overall Library Cycle value.

Different Projects will ask for different Compliance Answers. For example, one Project may specify you answer "Yes" or "No," while another may require answers to be "Y" or "N".
To ensure your Library Entries are applicable across all Projects regardless of the answer options required for a specific Project, add Compliance Answer Options to this page. You'll have the option to map your Project's Compliance Answers to these Options when you create your Project.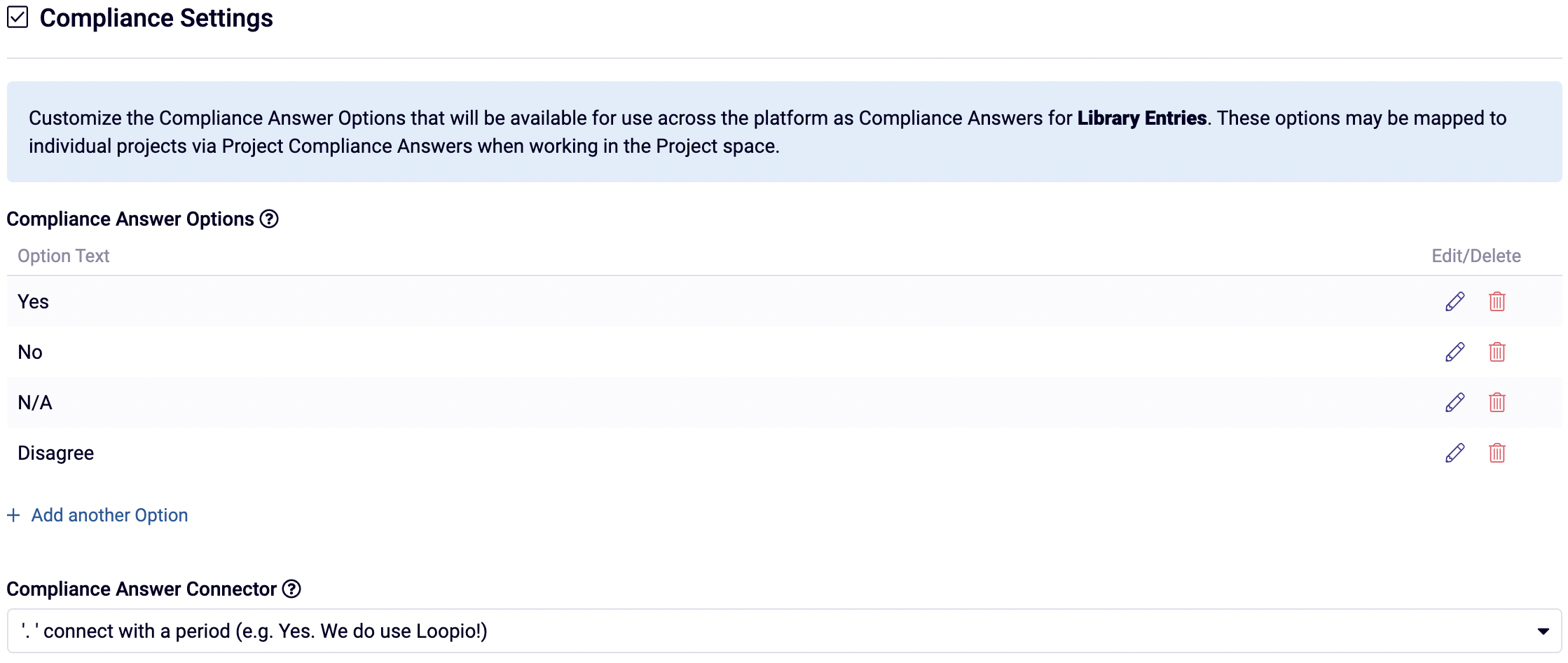 Read more: Compliance Answer mapping
Backups
Backups provide a downloadable copy of all your Library Entries, including Question and Answer content, Alternate Questions, Tags, and categorization. Backups are downloaded in a password-protected zip file, containing both a Word and an Excel file copy of the Library.
By default, Loopio Backups are scheduled to automatically generate once a month. You can manually generate a Backup using the Backup Now button at any time:
All Backup files are locked for security purposes. When Backups are first enabled, these files are locked using a Loopio default password. We suggest you reset the Backup password once Backups are enabled.
Both the Backup Schedule and your Backups password are set from the Backup Settings menu, accessible through the gear icon: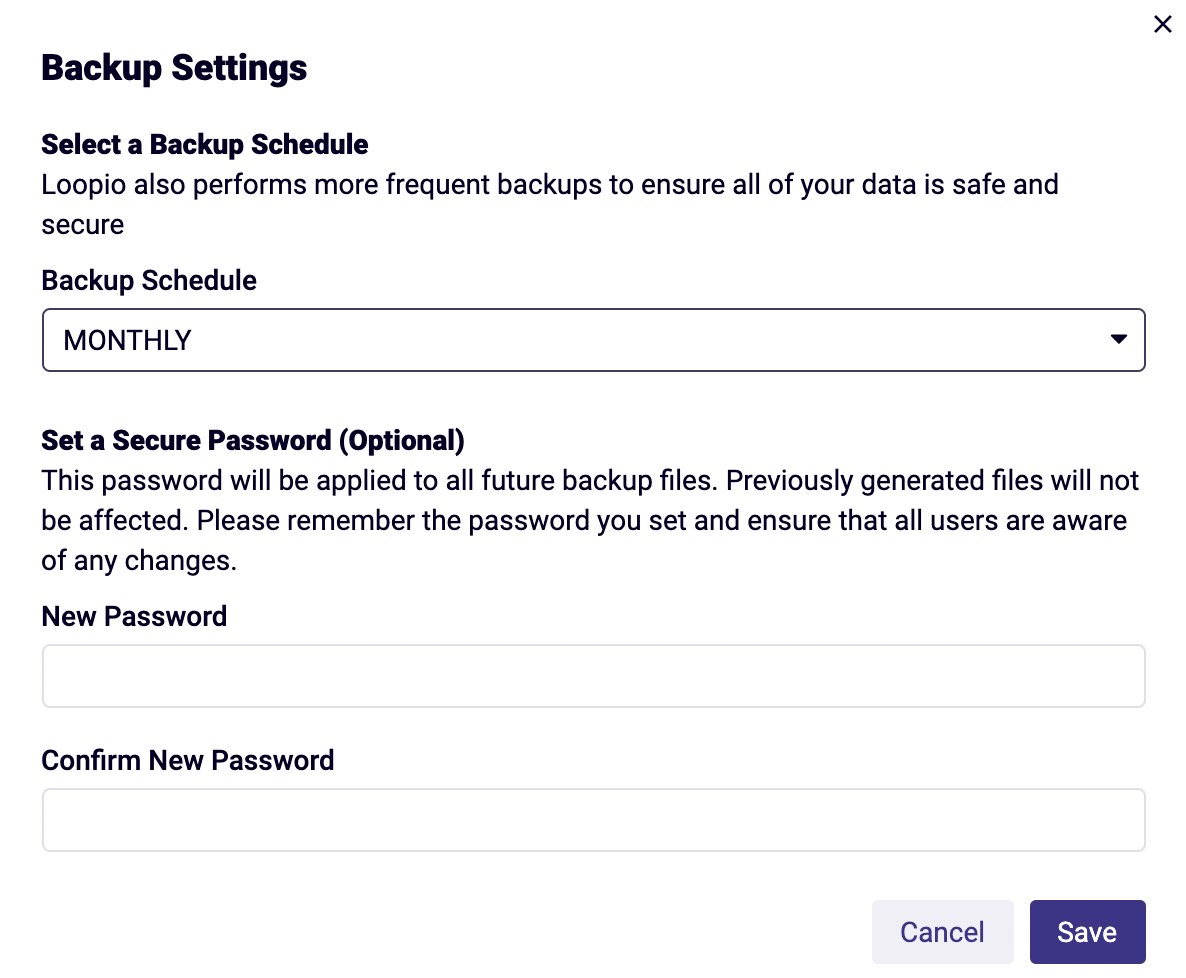 Tip: You can tell how an existing Backup file is protected based on the color of the lock icon next to the Backup row: Gold lock means current user-configured password, and grey lock means a password other than a current user-configured password (this can be the Loopio default or an old user-configured password).

Reach out to Loopio Support to enable Backups on your account.
Read more: Backups
Integrations
The Integrations tab is where you configure settings for any third-party integrations that work with Loopio, such as Slack and Salesforce.
Subscription Required: Integrations aren't available on all subscription plans. Contact Support to learn more: Send an email to Support