Compliance Answers used in a Project are typically in a specific format determined by whoever created the document. Mapping Compliance Answers back to your Library in a standard format that makes sense for your organization allows you to provide Compliance Answers that match your client's requirements while maintaining a consistent format within your own Library.
Permissions Required:
• Project, Level 2 (Creator) permissions or higher are required to create a new Project
• Library, Level 2 (Read & Write) permissions or higher are required to create or edit new Library Entries
For more information, read on: Changing your Library's Compliance Settings
Creating Compliance Sets
Compliance Answer Sets are created when Importing either an Excel or Word document in the document Import window.
To add Compliance Answer Sets to a Project, click into the cell that should contain the Answer location and select Add Compliance Answer.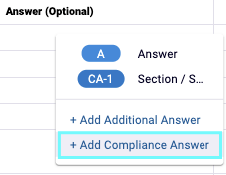 Here you can configure the name of the Set, as well as the options that should be available for this Question.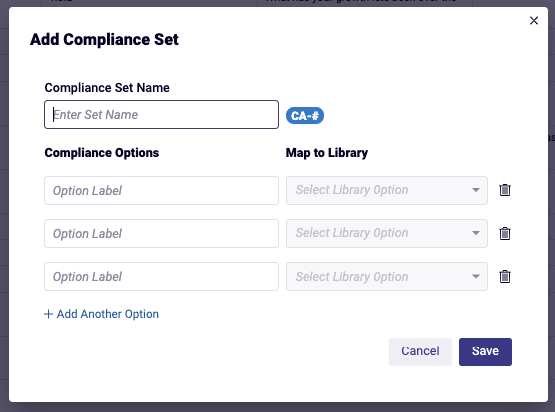 The selected column will be automatically selected as the Answer location for this Compliance Set.

Alternatively, click Manage Compliance Sets to add all the Compliance Sets needed for this document, then select the Answer locations after.

Mapping Compliance Answers to the Library's Options
In the Import window, you can also select how these Compliance Answers match with the Compliance Answer Options that already exist in your Library.
Mapping your Project's Compliance Answer Options at the beginning of a Project ensures that you can make use of Compliance Answers from your Library in Magic, searching the Library, and reviewing Project content for addition to the Library.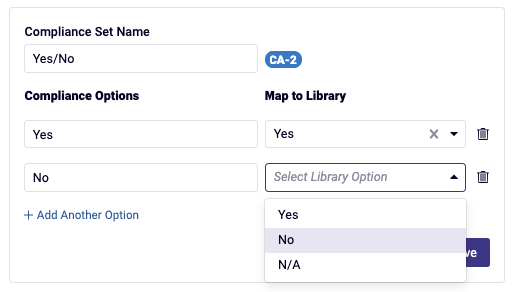 Once the document has been Imported, the imported Compliance Answer Sets will appear at the top of each Project Entry.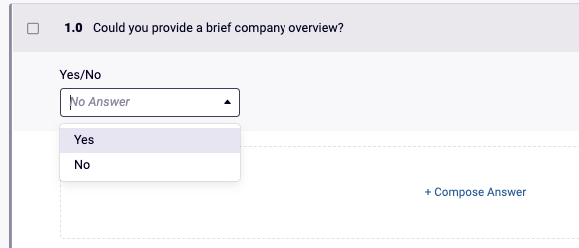 To edit these Compliance Sets or how they map back to the Library, click the Project Actions menu (...) in the top-right corner of the Project Canvas. Then, select Manage Compliance Sets.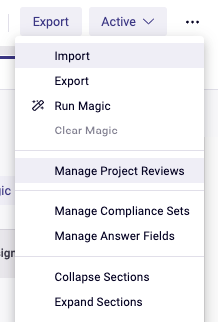 Using Compliance Answers with Magic
When running Magic on Entries with Compliance Answer Sets, the Library Entry's mapped Compliance Answer will be pulled into the dropdown. Compliance Answers filled by Magic are denoted by a teal Magic icon on the Dropdown.

You can also choose to prepend Library Compliance Answers to Entries that don't contain Compliance Answer Sets by selecting Compliance answers included in the answer text in Magic's advanced, "See More Options" settings.

The Prepended Compliance Answers will be placed in the Answer text of Project Entries, with either a period or dash to connect it to the Answer.

Read more: Answering Project Entries: Magic