Source Documents allow for better record-keeping and easy access to reference documents. An example of a Source Document may be the original RFP you received from your client. All Project Participants will have access to view and download any attached Source Documents.
Source Documents can also be used to populate your Project with questions using Loopio's Import functionality.
Permissions Required: Loopio-wide Project, Level 2 (Creator) or higher, or project-specific "Project Admin" permissions are required to add a Source Document.
How Can I Add a Source Document to a Project?
You can add a Source Document to your Project in 3 different ways: During Project creation, when Importing your Project's outline and requirements, and directly within the Project.
How Do I Add a Source Document When Creating a New Project?
From the Projects page, click New Project
In Additional Project Options, click Browse to find your document
Attach your Source Document
How Do I Add a Source Document When Importing an Outline or Requirements into a Project?
Within a Project, click Import
Select Source Document
Click Browse to upload the Source Document you would like to use for Import


Note: Sections, Subsections, and Questions can only be imported from one Source Document per Project. To import from a separate Source Document, create a new Project in Loopio. Beyond this initial Source Document you use for Import, any additional Source Documents you might add are for reference only.
How Do I Add a Source Document to an Existing Project?
Open the Project
Click on the tab on the left-hand side of the page to open the Project Sidebar

Click the plus icon in the Project Sidebar beside Source Documents, then click "Browse" to find your document

Click Add
How Can I Find My Source Document in a Project?
Once a Source Document has been added, a blue triangle will appear beside "Source Documents". Click on the blue triangle to view, download or import content from your Source Document.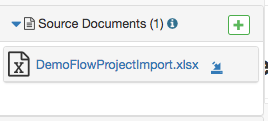 What File Types Can Be Used for the Source Document Import Method?
File types that can be used to bulk import requirements directly into Loopio using the Source Document import method include:
Microsoft Word documents (.docx)
Excel spreadsheets (.xlsx)
PDF
Note: Projects imported from a PDF Source Document must be exported to a Custom Document.
Tip: Want to learn more about working with Source Documents in a Project? Read on: